With the Blow Off Valve installed and the boost & vacuum pipes tidied up there was only one loose end left – my SuzukiSport boost gauge, still temporarily stuck to the dash. Although the original idea had been to mount the gauge in an A-pillar pod I happened to stumble across the rather tasty 45mm OEM steering column gauge pods found in some Subaru Imprezas and figured that, although my car was smaller and my SuzukiSport gauge bigger, there was no reason why I couldn't have my own steering column pod too…
After some preliminary measurements it was clear that things would be pretty tight but with the gauge just above the windscreen wiper control stalk – thankfully it only moves downwards! – and with the dial's face about halfway between the front face of the column surround and the rear face of the steering wheel everything would fit, even with the column adjusted as far up & forward as possible. The only remaining issue was how to physically mount the dial to the column – because of the relatively large size of the gauge (52mm) any pod with a foot or stalk moved the gauge's face into the eyeline of the main instrument cluster. After searching high and low for slimline gauge pods/holders I decided to adapt a simple ring-style holder by removing the chunky tilt and swivel base, cutting two small slits in the column surround, poking the two (now redundant) holder tabs through, bending them tight & fixing them with Araldite. Not the most elegant – or easily reversible – of engineering solutions, but surprisingly sturdy and also very minimal.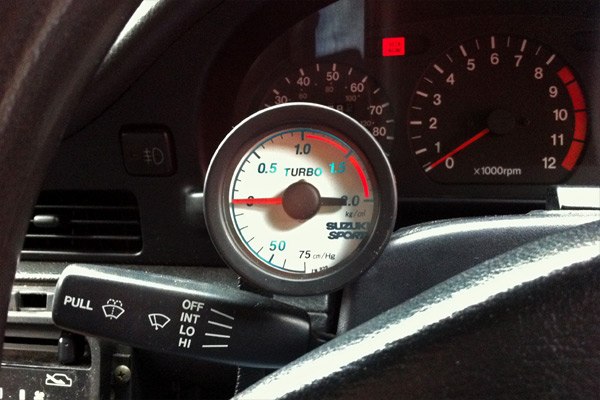 The vacuum hose routing & illumination wiring were next and turned out to be relatively simple tasks as I'd already done most of the work previously. The vacuum hose running from the gauge was connected up to the flow controller in its new hidden location in the drivers footwell (part of the tidying up of the engine bay in the last post), and with a few extra connectors the gauge illumination was easily piggybacked into the existing EVC wiring as well, giving constant illumination of the gauge from ignition onwards.