After 7 years of "they're so cool", a moment of "yep, that one", 3 months of waiting, and a dollop of bureaucracy it was finally time to pick up the Carry.
As The Car Warehouse is situated in Middlesbrough (a stone's throw from where the vehicle carriers dock, rather handily for them) and me in semi-rural Staffordshire I'd spent most of the time since the Carry had arrived in the UK trying to work out the best way to get my new vehicle the 150+ miles back home. Options included getting it delivered (super lazy) to self-driving a transporter (so many hours driving) but eventually I found a happy medium – myself and my wife would catch the train up to Middlesbrough, then take the scenic route home to run the Carry in gently. A micro(car) adventure 🙂
The journey up was as relaxing as we'd hoped, especially for the 2 hours on the TransPennine Express where we rode 1st class (it's a bargain). When we arrived at Middlesbrough one of the guys from The Car Warehouse kindly picked us up and whisked us to a relatively anonymous-looking building with a rather familiar-looking vehicle outside…
As excited as I was to check out the Carry there was a whiff of Aladdin's Cave about the main building and we had to take a look. After falling in love with a Mazda Porter Cab, cooing over a Honda Beat, nearly hugging a cute little Nissan Pao and watching my wife go weak at the knees for multiple rust-free Minis we finally returned to the Carry where I pored over the details and got more and more excited. Eventually we headed into the office which was a sight in itself, the back wall consisting of whiteboard after whiteboard of stock laid out like a menu in front of us. Oh the cars… *swoon*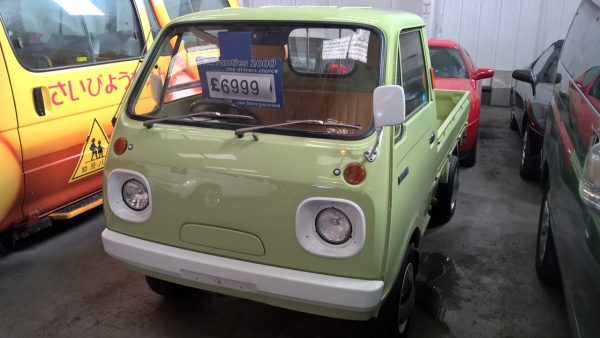 After signing on the dotted line and thanking everyone at The Car Warehouse for their help we somehow managed to squeeze ourselves and our bags into the cab and set the sat-nav for home – no motorways please! – via the nearest 99RON-endowed petrol station. Whilst paying for the fuel the cashier admitted she'd almost taken a photo of the Carry as it reminded her of a van that her and her friends had bounced round some Mediterranean island in many moons ago – they'd christened it "the Sootymobile". Five minutes in and the Carry had already made three people smile – great stuff!
The journey back was long and a little stressful but with a couple of stops, one for food, we made it home safe and sound… it only took 6 1/2 hours 😅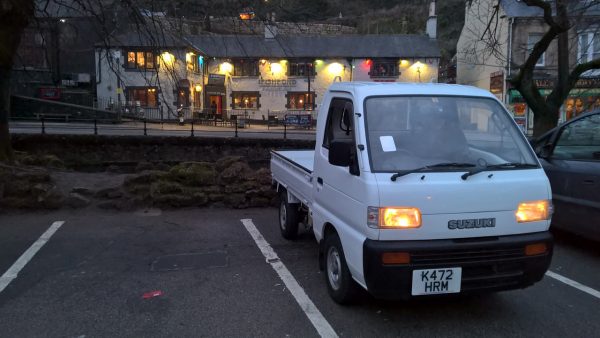 Now it's time to enjoy something I've waited a long time to own. Mods will be made – there was always one on the cards from the very start! – but for now it's all about finding excuses to drive this tiny 1/3 ton pick-up truck!