The Jeep was trailered away today to become a donor vehicle and with that the final chapter of the Jeep Revival closes. The new owner already has two Cherokees, both of which will benefit from the decent bits of T708 JKU.
Despite the result of the MOT test – and the negative figure at the bottom of the balance sheet – the Jeep Revival attempt was still a fun adventure. The XJ's low value and second car (OK, third car) status made working on it a worry-free prospect and a great vehicle on which to gain some "wrenching" experience. The euphoria of fixing a non-starter with a short piece of wire, or sluicing off years worth of grime to reveal a tidy-looking Jeep underneath (accompanied by excited gasps from my friend as each panel came up gleaming) are worth a couple of hundred pounds of wallet pain I reckon.
Just this once, anyway. I'm not made of money.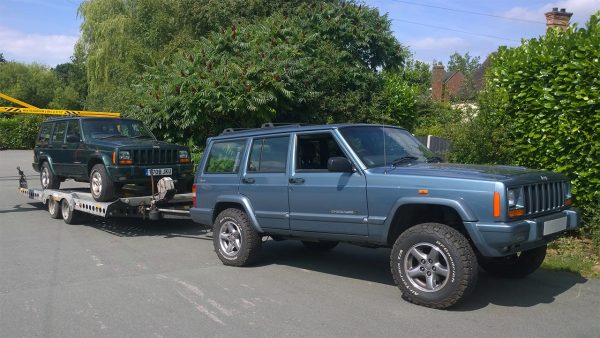 ---
-£350.00 (Jeep Cherokee XJ)
-£ 65.00 (AM058R battery)
-£ 69.00 (Used OEM alternator)
-£ 46.94 (Autopal headlight x2)
-£ 29.90 (Rear brake cylinder x2)
-£ 22.96 (Brake shoes, full set)
-£  5.00 (Copper brake line x2)
-£ 13.49 (Rear brake spring kit)
-£ 62.54 (Upper & lower ball joints x2)
-£ 28.95 (Hub knuckle bolt x6)
-£ 90.00 (Brake caliper x2)
-£ 19.95 (Brake pads, full set)
-£ 10.00 (Copper brake line x2)
 £525.00 (Jeep Cherokee XJ)
- - -
-£288.73