The JDMny's last MOT highlighted some areas of corrosion in the rear floor of the car, including near the rear seatbelt mounts. Wanting to keep on top of these kinds of issues I bought a second car (because that's what you do) and took the JDMny off the road to clean things up properly…
The rear floor is an area susceptible to corrosion on all Jimnys and common areas where rust can be found include around the rear seatbelt mounting points and in the tool well under the boot floor – I think the latter is probably not helped by the presence of the exhaust backbox directly underneath. On the JDMny a few blobs of rust were circling the seatbelt mountings and underneath the car the boot floor was getting a bit crusty, though nothing had made it's way through to the inside.
Tackling the boot floor was relatively simple as access is pretty good once the bumper and exhaust have been removed. After wire-brushing as much of the underside as possible a liberal coating of Genolite rust converter prepped the surface for about 1 1/2 cans of U-POL Gravi-Guard, a spray-on stone-chip finish which should hopefully keep things protected for a while.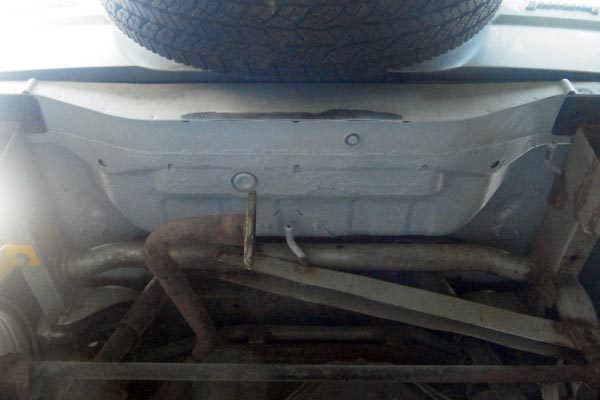 Inside the car the metal surrounding the rear seatbelt mountings was thin enough to warrant a couple of repair patches and the other spots of rust were once again neutralised with Genolite.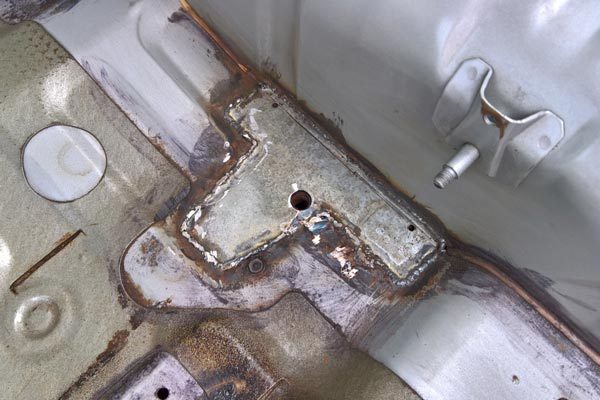 To finish things off I decided to spray the rear floor with U-POL Raptor bedliner, choosing the "tintable" version and adding a dash of silver metallic base coat to get as close as possible to the car's original finish. A standard U-POL Raptor pack is designed for a standard pick-up bed but I was surprised at how quickly it disappeared – there was just enough to cover everything I wanted to in the JDMny but I'm sure a pick-up would need at least 2 bottles! The process is simple enough but does require a compressor and a schutz gun, the latter being available for peanuts on eBay. Simply add the hardener and basecoat to the main bottle, shake, attach to the gun and start spraying.
A word of warning: this stuff stinks! It has a weird not-paint smell that lingers way beyond the hardened-off stage – not something that's a problem when used on pickup beds but something to bear in mind when using it inside a vehicle. Despite being covered by carpet and a dog crate the smell is still noticeable, especially when the inside of the car gets warm. I'm hoping it will fade over time… if not I might be time to try out a deodorising bomb!