APIO must surely make some of the best custom parts for Jimnys you can find anywhere – not to mention their amazing "Complete Car" range – and even with the current unfavourable exhange rates their stuff is worth importing. Having done some mild greenlaning (and planning more) I thought it would be a good idea to purchase a set of tow hooks which take over from the rather weak-looking standard towing eyes.
Though most of APIO's tow hooks are designed with smaller aftermarket bumpers in mind they also produce a front tow hook designed to extend underneath a standard front bumper and an elongated rear tow hook which extends past the rear bumper (requiring a slot to be cut first of course!). As these, along with most of APIO's stock, are sold on Rakuten I was able to purchase them via Jesse Streeter – great service as always – and it wasn't long before they'd landed on my doorstep (along with a paper catalogue from APIO which now makes up my bedtime reading staring at the pictures).
The front tow hook was an absolute cinch to fit, slotting into a factory cut-out in the chassis and then bolting up to the standard tow hook. Pointing the wheels to the left helped give a bit more room for the initial push into the chassis before tightening up the fixings from underneath the car.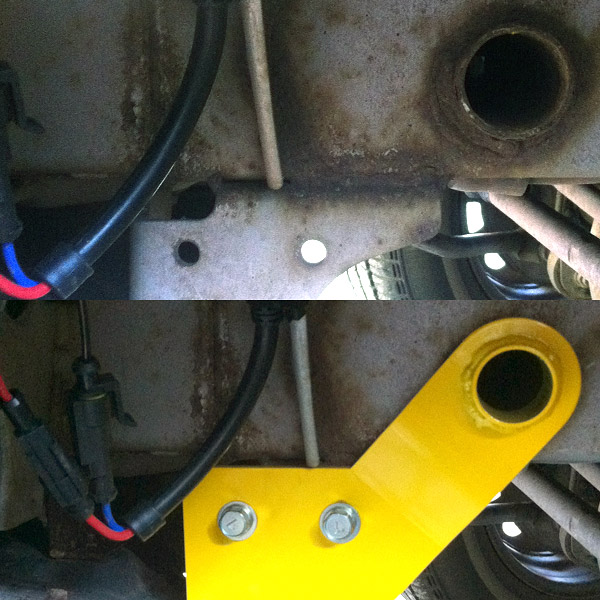 Fitting the rear tow hook was a much more labour-intensive process, not to mention stressful given the irreversable cutting involved! Marking up the inside of the bumper using the chassis rail as a guide helped with the initial cuts and once a small slot had been created it was a case of widening and straightening it out whilst regularly refitting the bumper to check everything was lining up correctly.